New products
PowerCable MQTT (MQTT-flex)
NETIO PowerCable MQTT 101x is a WiFi power socket (WiFi extension power cable) for integration with third-party cloud systems using open API (MQTT).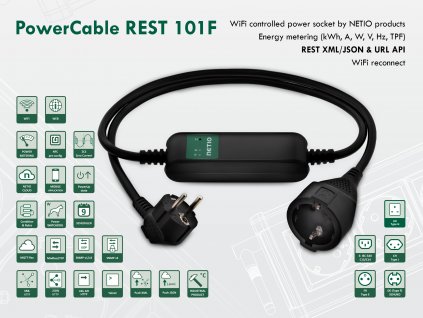 PowerCable REST 101x (XML, JSON, URL)
NETIO PowerCable REST 101x is a smart WiFi power socket for integration with third-party systems using open API. PowerCable is a smart power extension cable with a...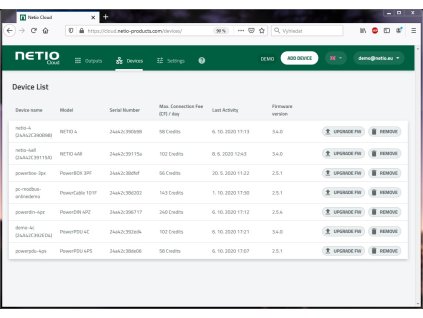 Welcome to NETIO products E-SHOP
The NETIO products company is a Czech producer of smart power sockets which can be controlled over LAN and WiFi.
Our products are programmable and support all common M2M API protocols. 
Our sockets are intended not just for end users (B2C) but mainly for businesses (B2B). A typical user is a system integrator that uses our products in various industrial projects. Our products can be found in demonstration booths, wind power plants, hospitals, and many other M2M and IoT applications.
We offer technical support, long-term compatibility and product stability to all companies that use our products in their projects or long-lived solutions. We are a European producer and we understand the needs of our customers.
Our NETIO 4x products offer unmatched customization possibilities via Lua scripts that run directly in the device. Thanks to this unique feature, the power sockets can be controlled by any third-party sensors on the network, without relying on a cloud or an Internet connection.
If you have any questions about our products, do not hesitate to ask us at info@netio.eu.